I got an ATI Radeon HD 4300/4500 Series
says so in Device manager, i actually updated my drivers too that were just released this month, that didnt seem to have any effect.
Processor is a Intel Core 2 Quad CPU Q8300 @ 2.5 GHz 2.5 GHz.
Yea it lists 2.5 GHz twice, so i dont know if im actually at 5 GHz but anyways i would imagine 2.5 GHz should be enough?
And im running Windows 7 64bit OS
The problem is with Legend of Zelda Windmaker, i just downloaded it, maybe its the actual .iso image i downloaded, but i doubt it.
I can load the game and everything, but once i start playing, the background is all distorted, but theres a tiny strip that isnt, which i can see everything perfectly like how it should be.
But the other top half of the screen is kinda blurry and crazy looking makes it hard to play or see things from a distance untill you walk your character right up to it.
Heres a Screen Shot.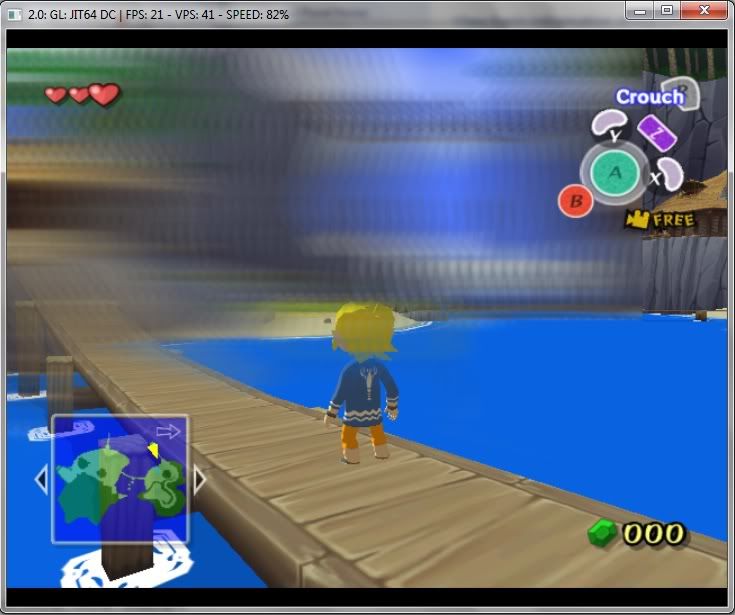 So u can see that it should work, but its only working properly on that one side of the screen the rest is all blurry...
Now the other question, not sure if this matters, but in Dolphin if i click on Configuration, then click on the Plugins Tab , Under Graphics i can select either Dolphin Open GL or Dolphin Software Renderer ?
I read somewhere i should be able to try Directx 9?
I mean im sure i have direct x installed, but i tried using both options and with the Dolphin Software rendered option the game goes extremely slow unplayable.
And i am using Dolphin 2.0
I at first tried another version of dolphin but couldnt get my xbox controller to configure properly... so hopefully this graphic glitch is fixable on 2.0, any ideas anyone???
---
AHAHAHAHAHA, im an idiot,
I didnt see the thread above with the link to the DirectX update lol.
Updated Directx, Selected DirectX in the Configuration/Plugins Tab , Problem Fixed.
Im so happy and horny now, this is wicked, good work you guys this shits amazing.