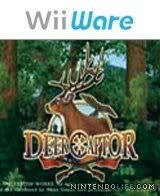 [color=#32CD32]About[/color]
Deer Captor is a blast from the past, a lazy rehash of a genre over two decades old that lets you blast stuff. The game doesn't look or feel particularly bad upfront - it has decent graphics, clean presentation and well functioning motion controls - but playing it is simply a bore, like you've been sold some watered-down version of those Cabela's Big Buck Hunter arcade games.
[color=#32CD32]Current Emulation Status[/color]:
*Work's Perfect
*As you may notice the pointer dosent look right on the video is moving around. This is not a bug sensor bar was running out of battery so thats why that happend. This game is perfect with no problem.
[color=#32CD32]Settings (R 5983)[/color]:
Based on an
AMD Phenom™ 2 2x 555 Processor 3.20GHz Ram:4.00GB 64-Bit Windows 7 Ultimate ATI Radeon HD 5500
Everything Set on defult setting's.
Only Set Enable EFB Copy :to texture.
For speed up.
[color=#32CD32]Video[/color]:
http://www.youtube.com/watch?v=CkuRW_EMsSg
[color=#32CD32]AMD Phenom™ 2 2x 555 Processor 3.20GHz
Ram:4.00GB
64-Bit Windows 7 Ultimate
ATI Radeon HD 5500[/color]
Youtube Chanel=
http://www.youtube.com/user/REALShinoAburame