So Dolphin is running pretty slowly. Start menu on "Beyond Good and Evil" is a nice high 60s, and then it drops down to under 20.
First of all, I have looked around the forums and the web as a whole and have tried adjusting Dolphin settings accordingly, with little to no net gain. Generally it seems the changes work for a user, the user gives up on getting Dolphin to work, or his computer isn't up to snuff. The changes I've read about
haven't
worked for me, and I think my computer should be able to handle it (a quick glance at task manager shows there's plenty of resources to be had if Dolphin wants them, and I think my graphics card is fine as well; this might be a
slightly
dated machine, but it's still a gaming machine).
All of my driver software is up to date.
I've included screenshots using CPU-Z and GPU-Z as suggested by your forums, as well as screenshots of the Dolphin settings.
OS: Windows 7 Home Premium 64-bit
GPU-Z: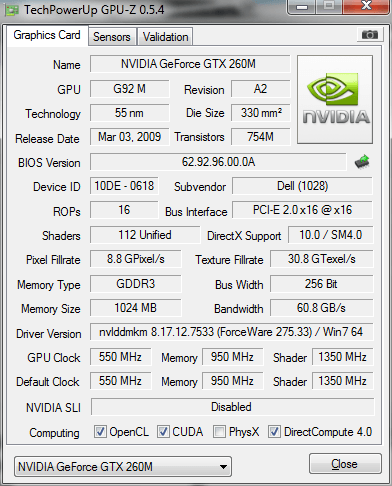 CPU-Z:
Dolphin (Dolphin-win-x64-r7687):
Among other speed tutorials to arrive at the setup above, I've used:
http://www.dolphin-emu.org/performance.html
And
http://forums.dolphin-emu.org/showthread.php?tid=11388
However, the gain is... minimal. Not enough to have the game playable.
If my view of my quad core/4GB RAM setup is over inflated, and I have no business expecting decent speeds out of my computer in the first place, just let me know and that should be a quick "fix." =P
I was looking at buying a second card of 4GB RAM for my machine. Not sure if that'd help; as I said before Task manager claims I have plenty of RAM left if Dolphin wants it, ~40% of my RAM. ~65% of my CPU is free as well, if Task Manager isn't telling a little fib.
Any help as to speeding this up would be more than welcome, as I can't seem to find any thread/site that is helping.
Thanks in advance.