Hello
I've been playing on dolphin for a week or so (Pokemon Colosseum mainly) and so far I did not encounter any problem (I saved using either the PC or the Savestates...) Until now...
I've played for about 5 hours (doing a lot during those hours) and saved using only the savestates... And I found that I could not save normally afterwards like I always did :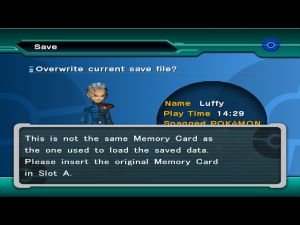 Voir l'image en grand
Is there a way to salvage this ? I would like not to have to do it all over again... Like a way to forcefully create another save file on another memory card, or to convert my savestate into a sav... ? Thanks you for your help.