First, sorry to post here but I can't create a thread in the custom texture projects, the button doesn't show up.
I've already posted in the dedicated threads by Slayer but it will be easier for updates to have it in one single thread. What do these packs do ? You have the HD UI by Slayer (thank you for letting me use it in my own pack) entirely up to date with the few typos corrected and missing stuff completed (files, menus, inventory, etc...) .I'm adding on top of that upscaled backgrounds and textures for 3D models.
For RE2, I used 2x Waifu for backgrounds and textures, and 3xBR for the mask textures to avoid the "square can" lines obtained by other upscalers due to how the game store the textures in tiles. There are still a few iperfection here and there, mostly dots due to how the xBR curves square angles. I've already been through the worst ones manually but there's still work to do. I played the game more times than sanity should allow in every game mode possible to ensure I didn't miss a thing. Though I still might have missed something
Recommended settings : Dolphin 5.0, openGL with 2xIR, 4xMSAA, AA-2D3D shader set to 1.7 blur.
For RE3, backgrounds are already at 640x480 and didn't need upscale. The GC version uses a few lower res for whatever reasons compared to the PC version, so I replaced them. There are a few instances where the PC neither have a pristine 640x480 but an upscaled 320x240 too blurry for my taste, so I used the original PS1 BG with 2xWaifu. Sadly there's no way for now to upscale the mask textures due to how they're dumped multiple times with garbage on it. It's the case too for the 3d models and 2d FX textures but in a more manageable way. There's probably a lot of missing stuff because of the random placement of some enemies (and those said textures sometimes need to be dumped for that specific location).
Recommended settings : same as RE2. You could lower to 1.5x IR, the shader will smooth the mask textures even more (at the cost of blur).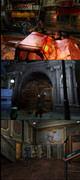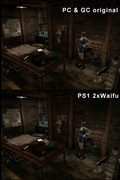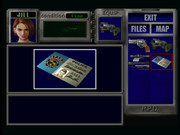 https://youtu.be/CUaQcJ6WjDg
Dowload for RE2
Dowload for RE3
AA-2D3D shader