Hi, so yesterday I downloaded Sonic Adventure 2 Battle ISO for gamecube, so I went looking for an emulator, and I found Dolphin.
I downloaded a version 73XX, changed the settings, ran the game and it ran fine with stable 50 FPS, but after a few minutes of gaming it crashed saying an unexpected error occured: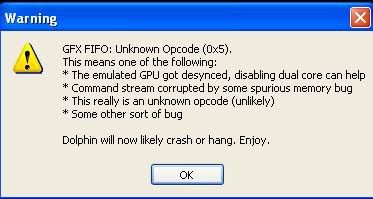 I downloaded a few other versions, including the 2.0 but they all ended up crashing after a few minutes of playing.
So now I'm wondering, what can the problem be?
My computer?
The specs are:
Intel Core i5 650 @ 3.2GHz
NVIDIA GeForce GT 320
4GB RAM DDR3
Windows 7 Home Premium 64 bits
I think my computer passes the test, specially because I was running it perfectly until it crashed.
The ISO?
Well, it crashes in different parts of the game, so I'm not so sure.
Or the Emulator?
Has anyone else had crashes with SA2B? Or any other games for that matter...