Hello!  Today when I tried to use my GCN controller with Dolphin via the official WiiU adapter I was someone confused to find that it no longer works.  I have since redone the installation steps many times and updated Dolphin to the latest version.  Despite this it still is not functioning properly.  I don't understand why it stopped working because I have made no changes to my hardware apart from a graphics card since the last time I used the adapter with Dolphin.  The curious thing is that Dolphin recognizes that the adapter is available, but does not recognize it inside the controller configuration.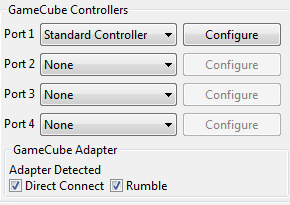 Despite showing that the adapter is connected when I go to configure the controller the only device listed is the default "DInput/0/Keyboard and Mouse."
I can not find any information which resolves this issue.  I can't even find another case of this happening to anyone.  Any information would be wonderful.