I'm playing a mod of Mario Kart,
Wiimms Mario Kart Fun 2020-12
. This is my own ripped copy of Mario Kart Wii, with Wiimms Mario Kart Fun patched into it following the instructions here:
http://wiki.tockdom.com/wiki/Wiimms_Mari...English.29
This worked fine for many months. However, recently it's started sporadically crashing. Immediately before starting one of the races (usually the second or third race in a cup), a dialog will pop up with a title of "Question" and a totally empty white body. Eventually, Windows will pop up its own dialog on top, stating that Dolphin.exe is not responding: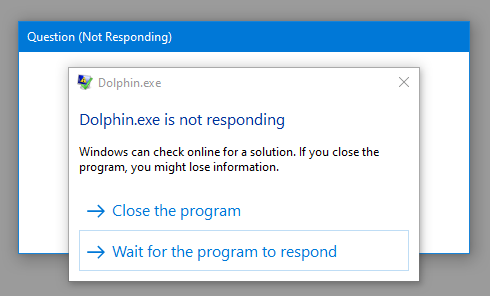 Any ideas on how to debug this? C:\Users\Daniel\Documents\Dolphin Emulator\Logs\dolphin.log is 0 bytes - Is there a logging option I need to enable?
Dolphin 5.0-14344
Windows 10, 20H2 (build 19042.985)