I'm trying to play Captain Tsubasa: Ougon Sedai no Chousen on Gamecube with the emulator.
The game runs fine except the intro, but there are some problems with the japanese characters, and there are a few graphic glitches.
Here are some examples:
On the character creation process, japanese characters, choices and cursor are invisible, here's the name input screen:
Then, the dialogs, choices as well as the stamina, motivation, condition and "friends with the ball" bars are not visible.
On Dolphin:
On Gamecube: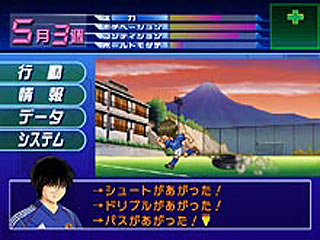 During matches, action choices and character portraits are not visible.
On Dolphin:
On Gamecube:
On some situations though, they can be seen, looks like they're not really invisible, they're just "behind" the other graphics.
Still, the japanese characters do not appear correctly.
So, I have 2 questions:
1-I was wondering if there's a plugin, or an option to activate to... Well, put the graphics in the correct "order"?
2-Is there any mean to display japanese characters correctly? Or is it not implemented yet?