Okay, so here's my beef.
I recently got Dolphin and I'm having an issue calibrating my
GameCube Controller
for it. I'm using the
MayFlash adapter
and a regular GCN controller. First off, I use the same controller to play other emulation games and it
works flawlessly
there. However, on Dolphin it seems that it registers my button presses, but not any motion from the
Main Stick
and the
C-Stick
whatsoever. (I can move them all I want, return to neutral position and then move, tried it all, nothing. And I KNOW it's not broken.)
This is my current layout within the settings.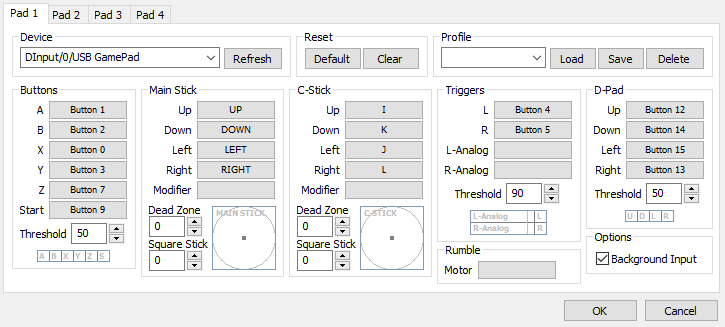 The controller is plugged into the
first port
of the adapter and like I said, works well on my PS2 emulator.
I've never used Dolphin before, so the solution might be really easy? Thats what I hope anyway.
Thanks for reading. Have a bunch of stuffed toys that look cute.
EDIT: I tried to follow instructions for the issue. This is how far I got:
Plug in the GameCube controller adapter if it hasn't been already. Download and launch Zadig.
1. From the "Options" menu in Zadig, select "List All Devices"
2. In the pulldown menu, select "WUP-028". Ensure that its USB ID is "057E 0337".
If it does not appear in the list then try inserting the adapter (specifically its black USB cord) into another USB port.
"WUP-028" doesn't appear for me no matter which USB I stuff it into.