i always run the latest revision of Dolphin (64-bit version on my PC, and so many peoples are saying F-Zero GX run great on it...
I got the game now and it often lag like hell during gameplay, for example, at the title screen (while there's a demo of AIs racing together) it lag a lot, framerate often dropping below 50%.
Here's my quick PC specs:
Microsoft Windows 7 Home Premium 64-bit
Intel Core i5 750 @ 2.73 Ghz
G.Skill 4 x 2gb DDR3-1600
eVGA Geforce GTS 250 512mb
Western Digital WD10EALS 1Tb Blue drive
Creative Sound Blaster X-Fi XtremeGamer PCI
i don't think my PC is the problem, maybe the emulation isn't perfect?
in DirectX9 settings, here's what i have: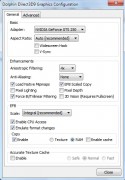 None are enabled in Advanced.
If it's possible...what should i do to make it run smoothly?
My PC specs:
OS: Windows 7 Home Premium 64-bit | PSU: Corsair TX650W | Board: Asus P7P55D-E LX | CPU: Intel Core i5 750 @ 2.73Ghz | CPU Heatsink: Prolimatech Megahalems rev.B + Nexus 120mm fan | Memory: 4 x 2gb G.Skill DDR3-1600 | Video: eVGA Geforce GTX 560 Ti 1gb | HDD: Western Digital WD10EALS