UPDATE20!
Passed Scenario 3 - Chapter 4
10th Boss Reached! (Scenario 3 - Chapter 5)
Now on Scenario 3 - Chapter 6
Scenario 3 is hang-free so far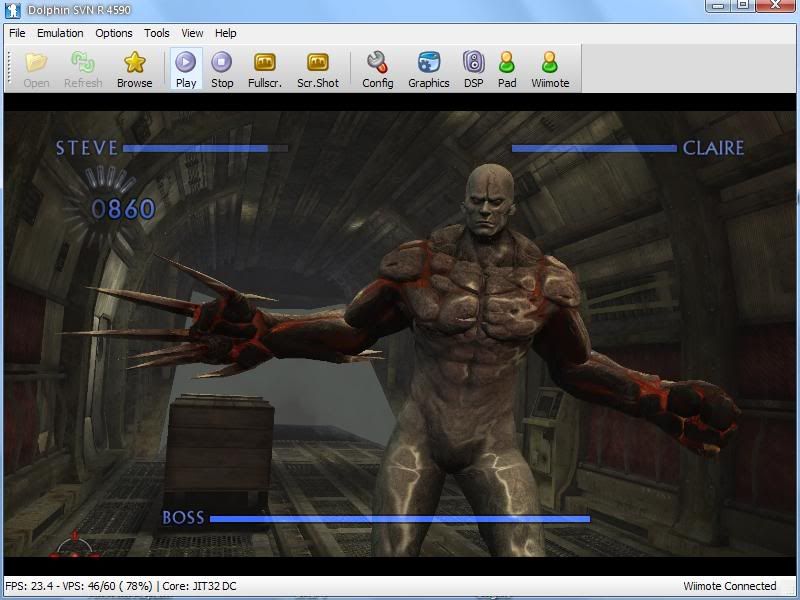 UPDATE19!
9th Boss Reached! (Scenario 3 - Chapter 3)
Nothing to report, Chapter 3 is hang free.
UPDATE18!
Passed Scenario 1 - Chapter 2 and then went to Scenario 3 (Veronica)!
Passed Scenario 3 - Chapter 1 and 2, now on chapter 3
No hangs, no bosses so far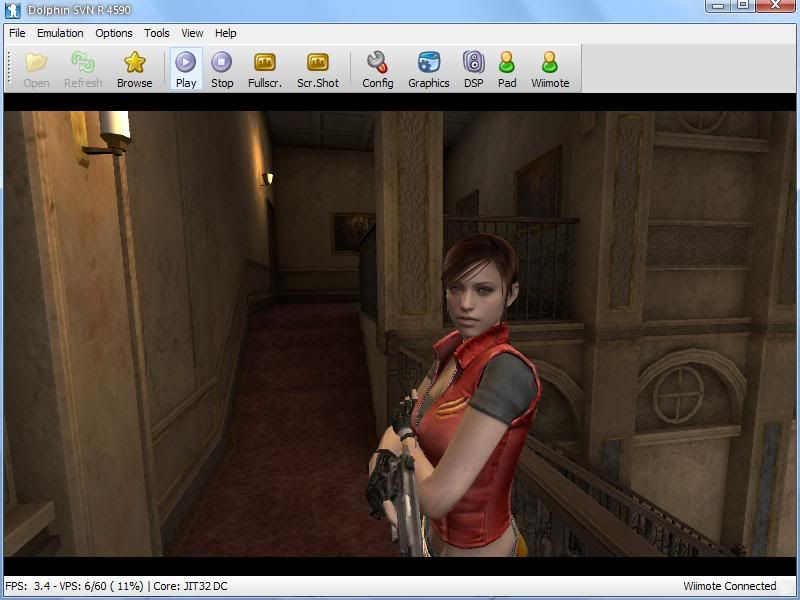 UPDATE17!
Found a crazy hang with HLE in Scenario 1 - Chapter 2
There is an invisible wall that won't let you help Krauser keeping all your bullets away from the enemies (can you see the holes i did with my gun?)
I had to use LLE to make it disappear.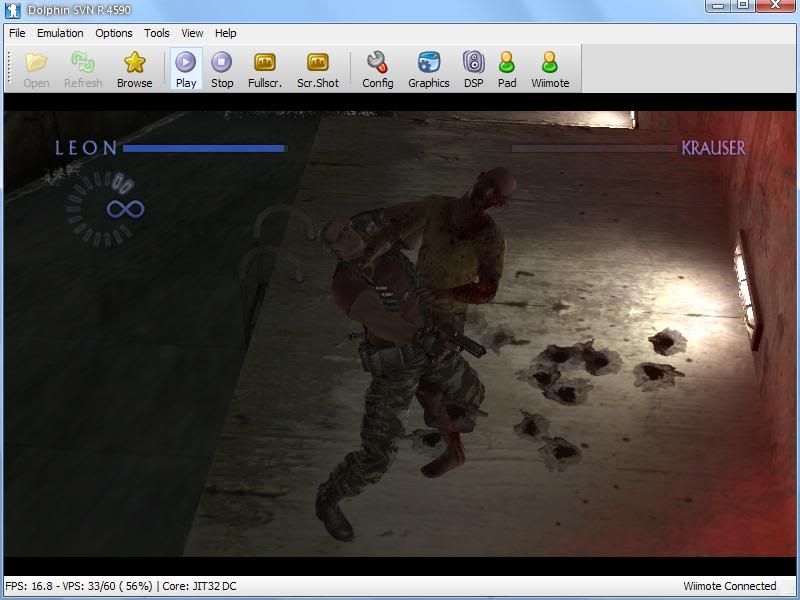 After few steps the game autosaved a Checkpoint, here it is, load from slot 3 as usual.
http://www.megaupload.com/?d=NSZ0P9TD
UPDATE16!
8th Boss beaten it was not a Dolphin bug but a very hard to shoot tiny zone on the train joint while camera and monster is shaking you around the place.
By the way i had to use rocket launcher at the right time to fix it properly.
The Adventure Continues!
Scenario 2 Complete (8 Chapters)
I'm back to South America - Scenario 1 - Chapter 2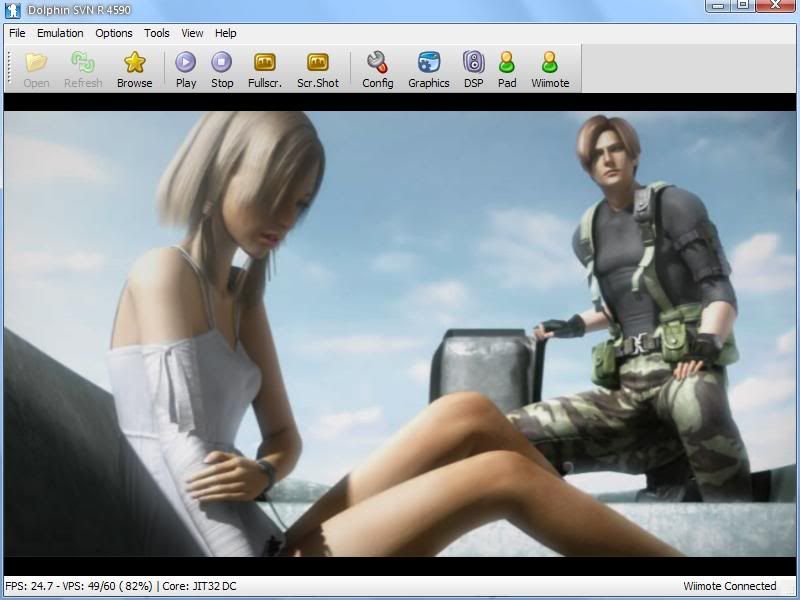 UPDATE15!
7th and 8th Bosses Reached! (Scenario 2 - Chapter 8) - Dolphin Hangs on 8th Boss - No way with HLE and LLE plugins.
Chapter 8 is all about Bosses, The first is, well old friend Nemesis coming back in a new "shape"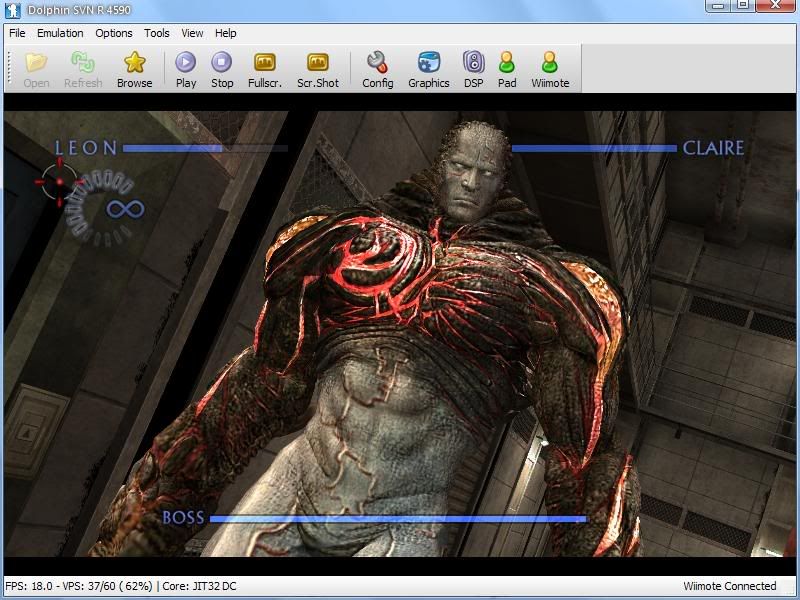 Here's the second one:
For killing it you will have to destroy this train joint and here's come the bug, you can shoot forever but the train joint won't break.
If you look at the real Wii situation it's quite easy to do.
http://www.youtube.com/watch?v=JILW2XVTDCM
To anyone interested to face this Boss and find out a way to continue, here's the Save to go directly to it.
Use Slot Number 3 (FILE03) to load the correct game.
http://www.megaupload.com/?d=K9UTGJ81
UPDATE14!
6th Boss Reached! (Scenario 2 - Chapter 7) - No more hangs since Scenario 2 - Chapter 4!
This Boss is Triple, Yes once killed will change its shape three times and you have to kill it three times.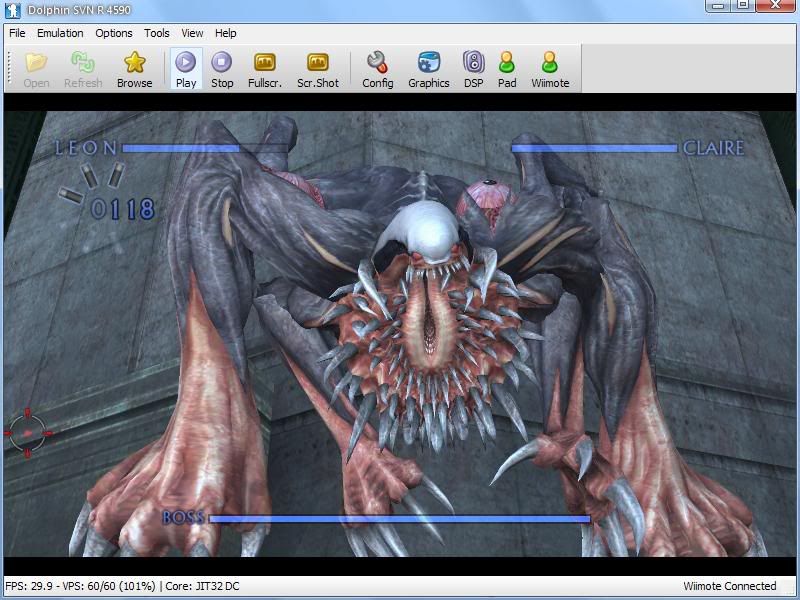 UPDATE13!
5th Boss Reached! (Scenario 2 - Chapter 6)
This time it's Nemesis.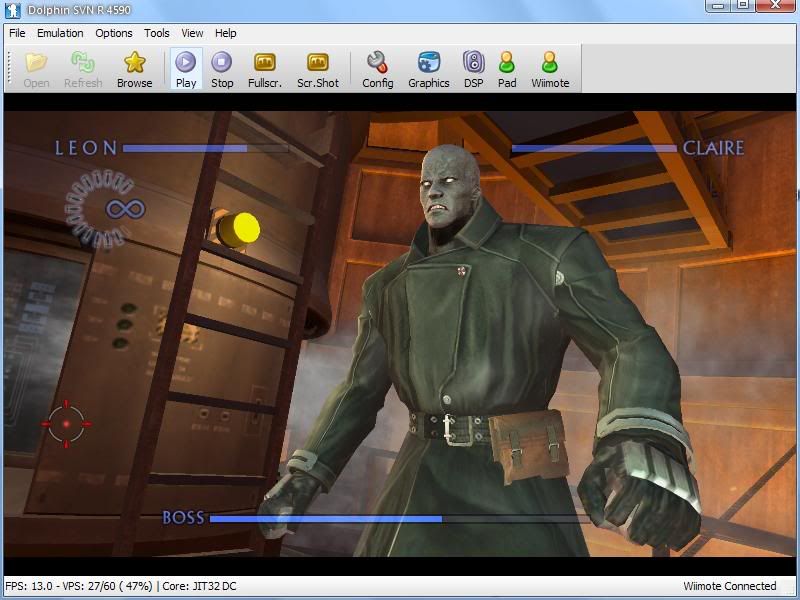 UPDATE12!
4th Boss Reached! (Scenario 2 - Chapter 5)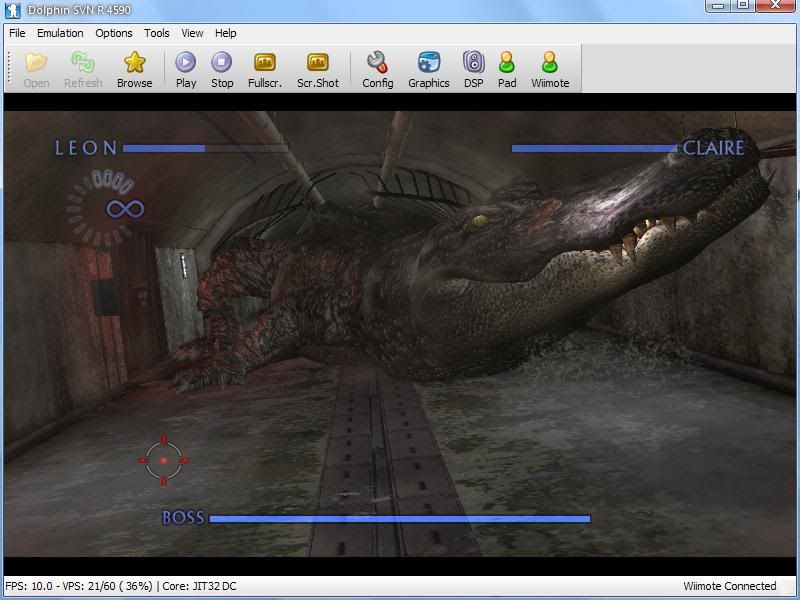 UPDATE11!
Facing the 3rd Boss! (another old friend) ! no issues to report.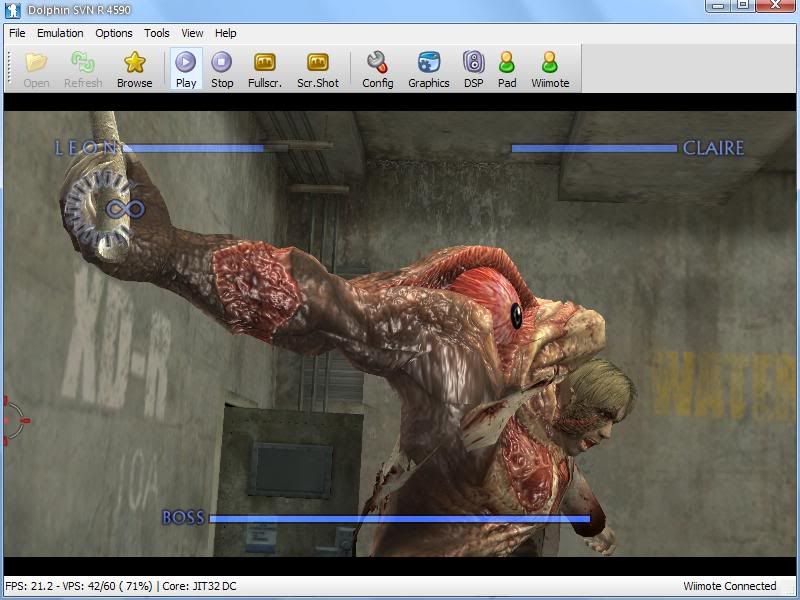 UPDATE10!
I went through LLE again, lucky enough to see the game autosave after only one room
here's the checkpoint save for HLE use
http://www.megaupload.com/?d=4EOHUDY2
UPDATE9!
Met Ada on Scenario 2 - Chapter 4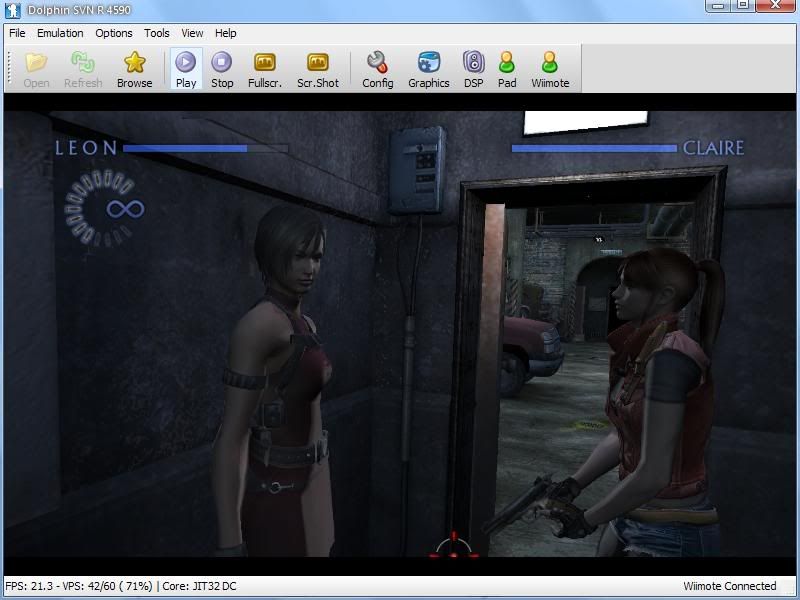 However right after it i got the first Scenario 2 hang at this point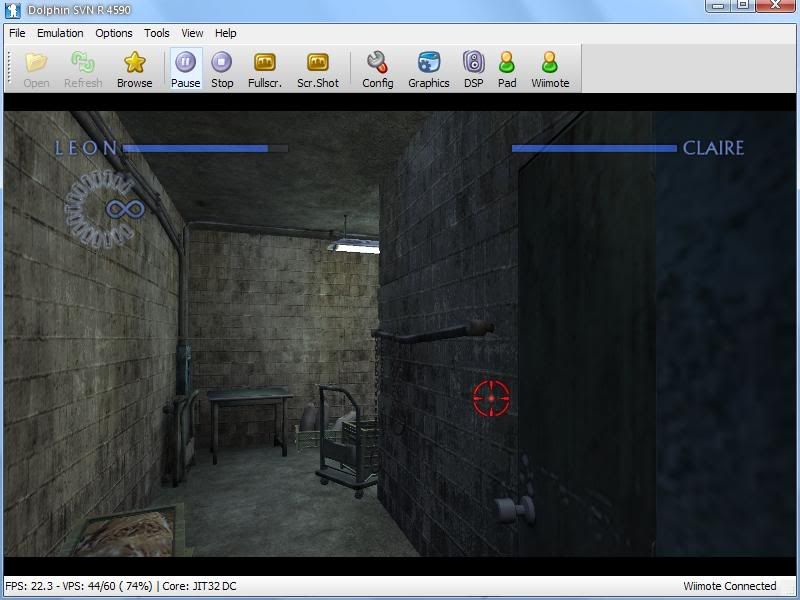 UPDATE8!
Reached 2nd Boss (end of Scenario 2 - Chapter 3)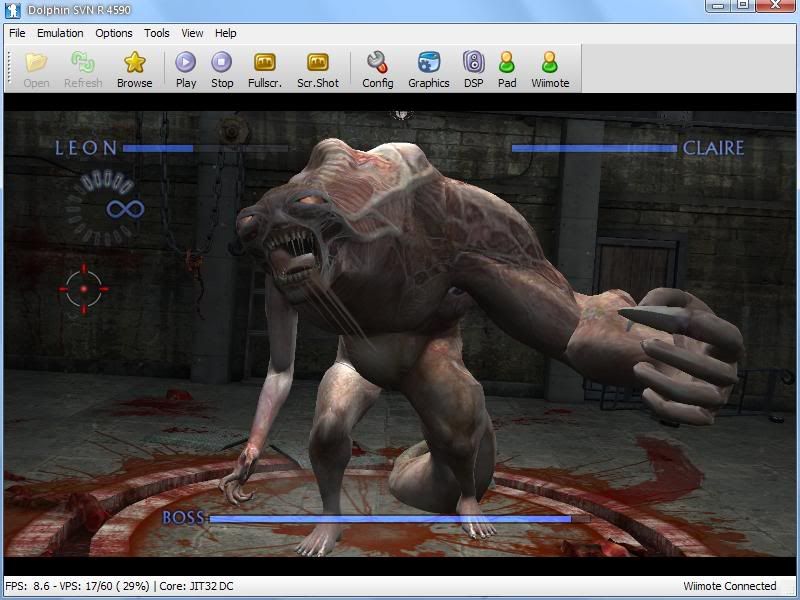 UPDATE7!
I played through Scenario 2 (Raccoon City), no hangs so far, no LLE need.
Passed Chapter 1,2 and 3 of Scenario 2 without hangs using HLE, looks like Scenario 2 is bug-free and hopefully is a problem of Scenario 1 (South America) Chapter 1.
Do you recognize this guy?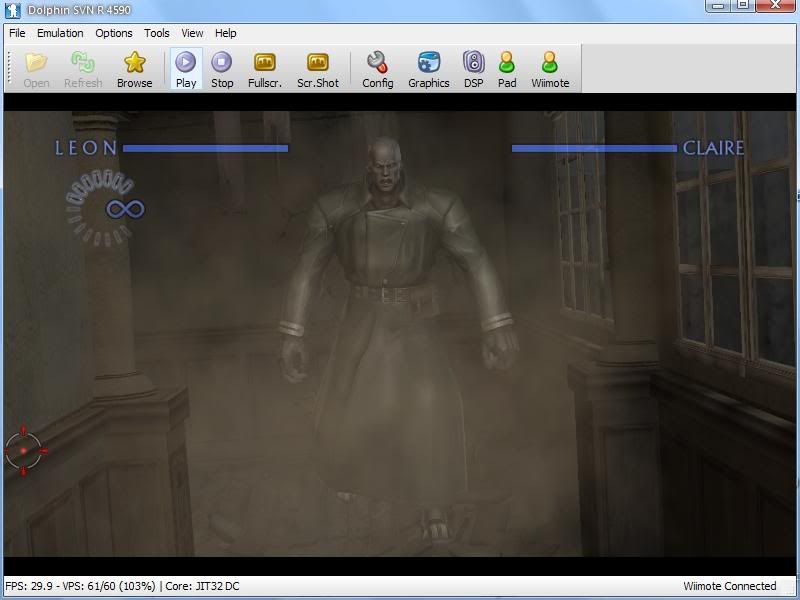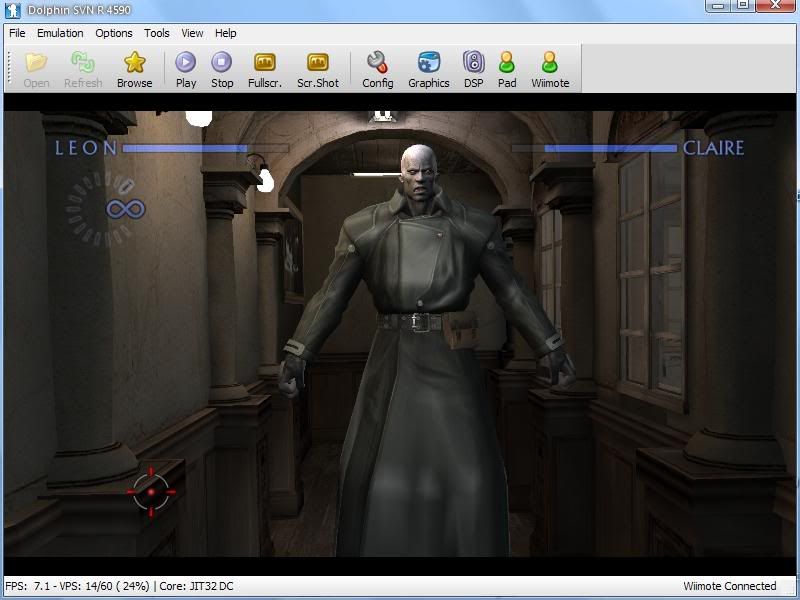 UPDATE6!
After beating the 1st Boss you get directly to Raccoon City, this time with full sound and gun support and with HLE!
Use FILE03 as usual to load game.
get the save here:
http://www.megaupload.com/?d=NUZ7TCQD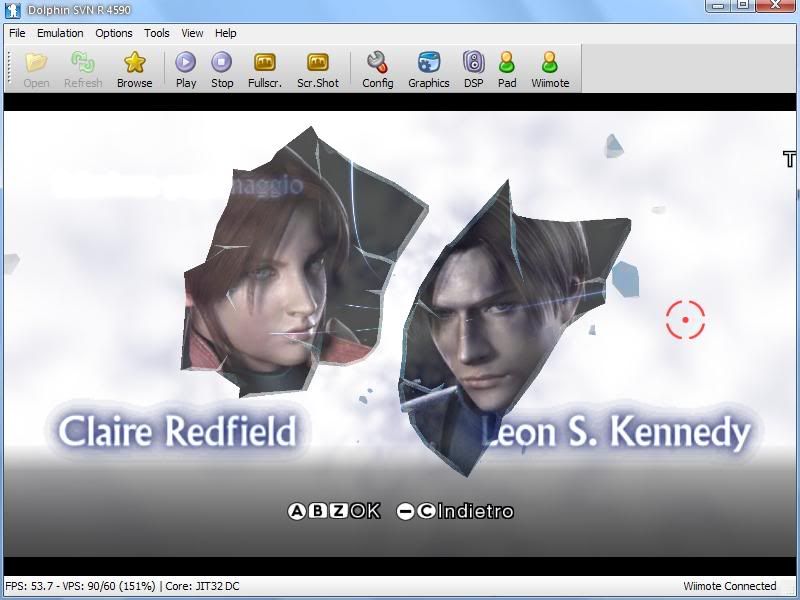 UPDATE5!
After playing a while with First Checkpoint Save you will get stuck again in this place
Right after this you will get to the First Boss.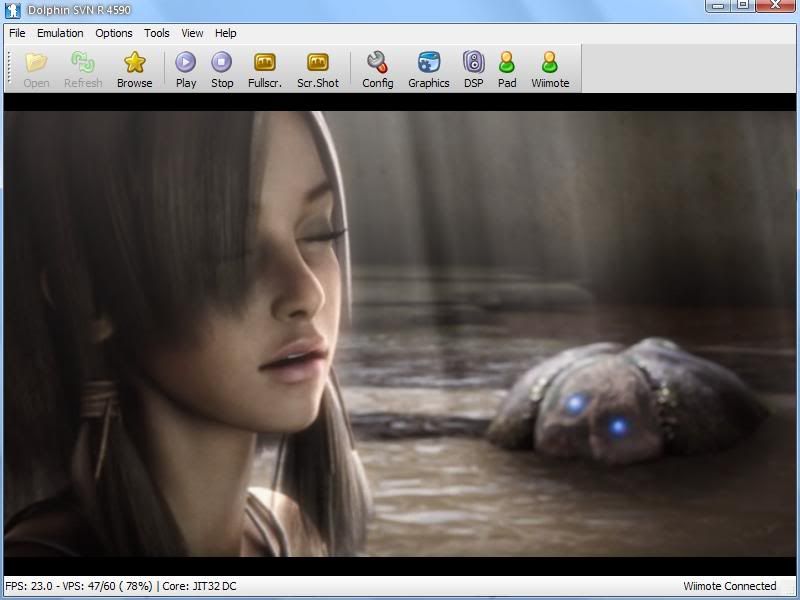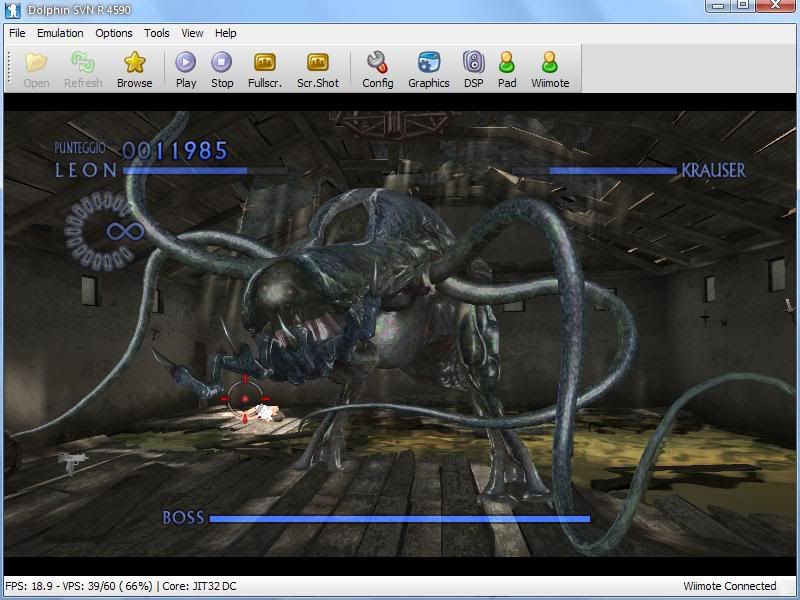 There's no way to get there without LLE plugin, anyway only sound get missing and game plays flawlessly!
UPDATE4!
Loading a savesate can get you pass easily the first Zombie but when you got stuck again the state got corrupted so the wait is forever.
So i did everything from the start using LLE plugin.
I waited 5 minutes on the first stop and 10 minutes on the second.
The problem with waits is dialogue subtitles.These subtitles come out very slowly and out of sync so the game has to wait in certain places for the subtitles to get in pair.And you cannot skip them.I suggest to enable them so you can see if they go on or not.
I reached the First Checkpoint, which was autosaved by the game.
http://www.megaupload.com/?d=1OR4B7F5
Overwrite your \User\Wii\title\00010000\53424445 folder.
The First Checkpoint is on Profile 3.
HAPPY PIRANHA FISHING!!!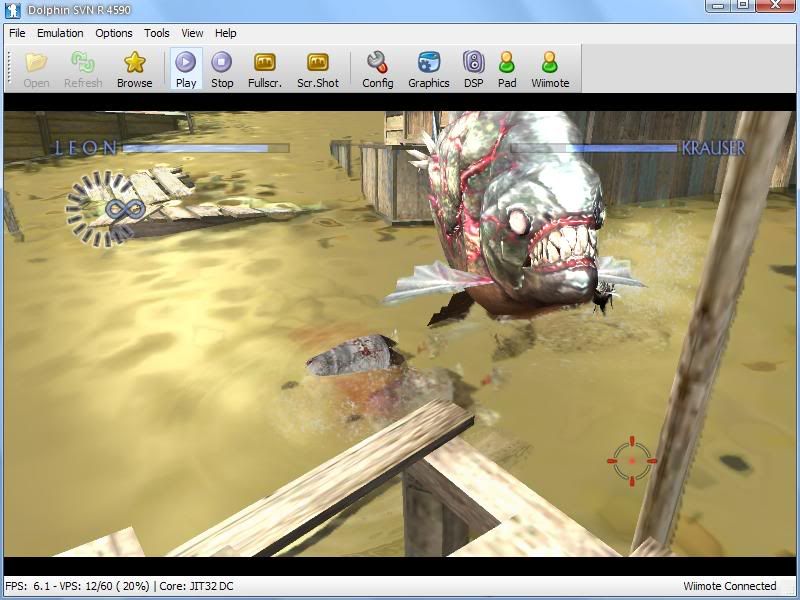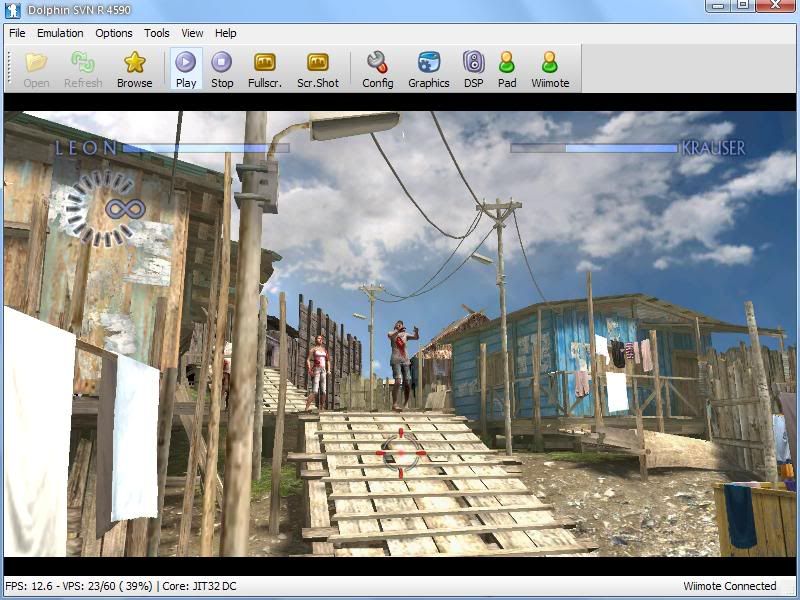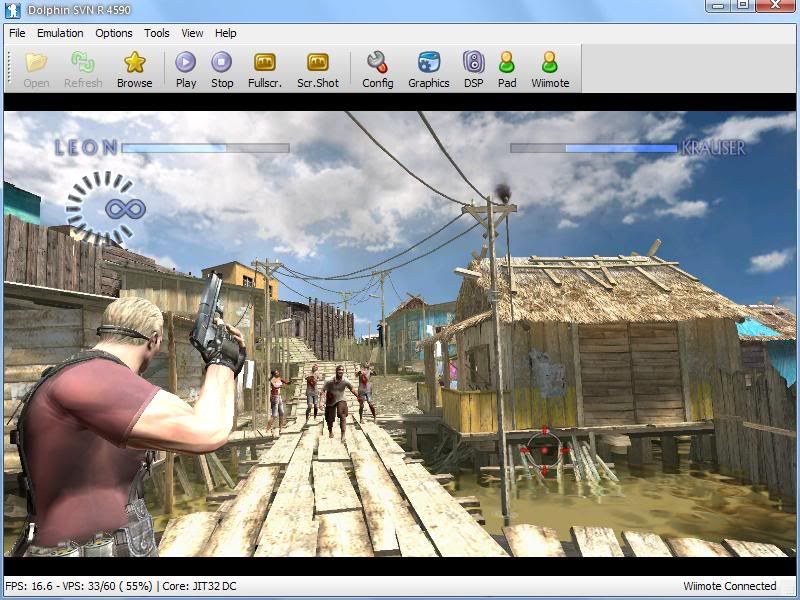 UPDATE3!
Later on the first level you will get stuck again.
After killing those guys you will keep waiting same as the first zombie, this time it's not a matter of 5 minutes.
You will also meet these spiders!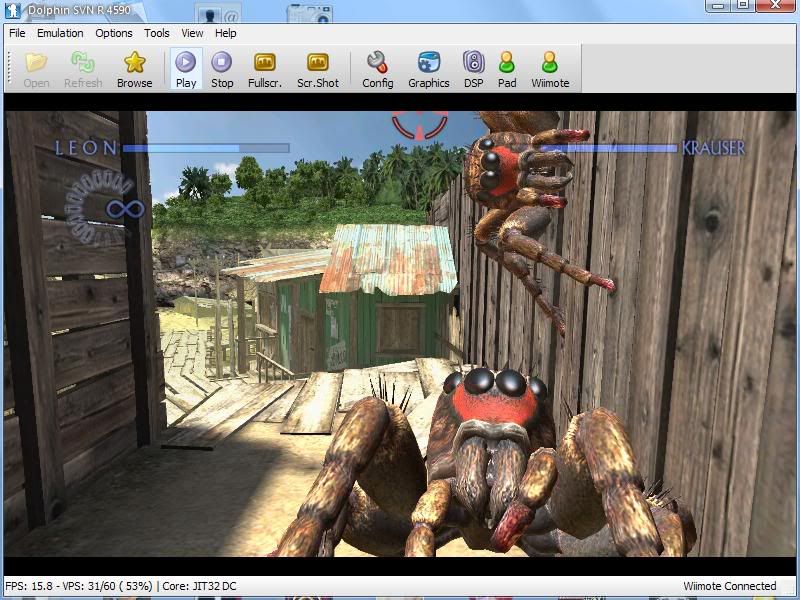 UPDATE2!
As pointed out by kofkin00 it's quite easy to make the game work with full support of guns.Zombies this time will fall down under your bullets!No savegame required.
Open Dolphin, just choose LLE audio plugin, load the game and kill the first zombie.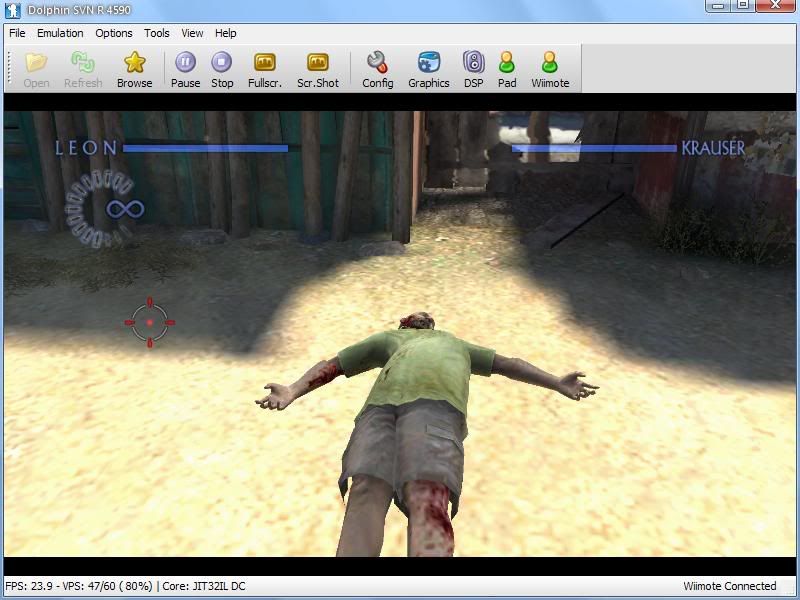 Wait 5 minutes and the game will wakeup again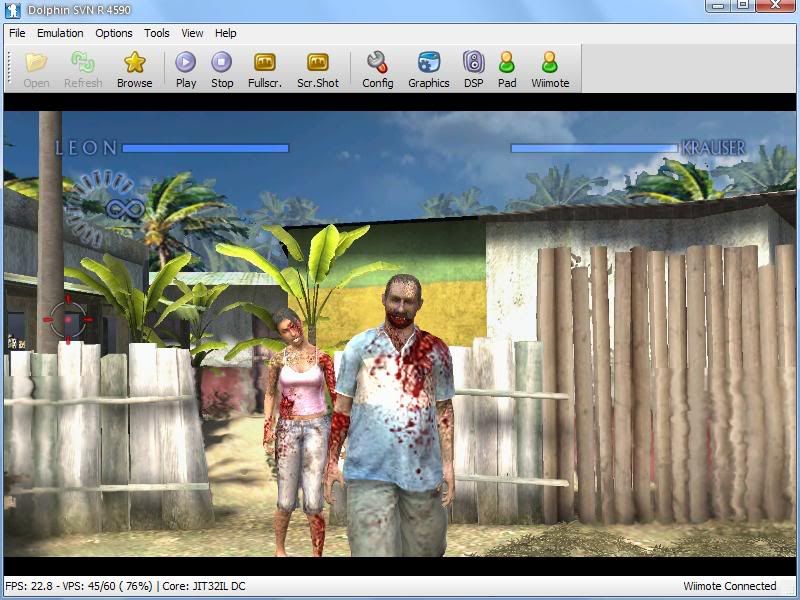 Save the State as shown in the picture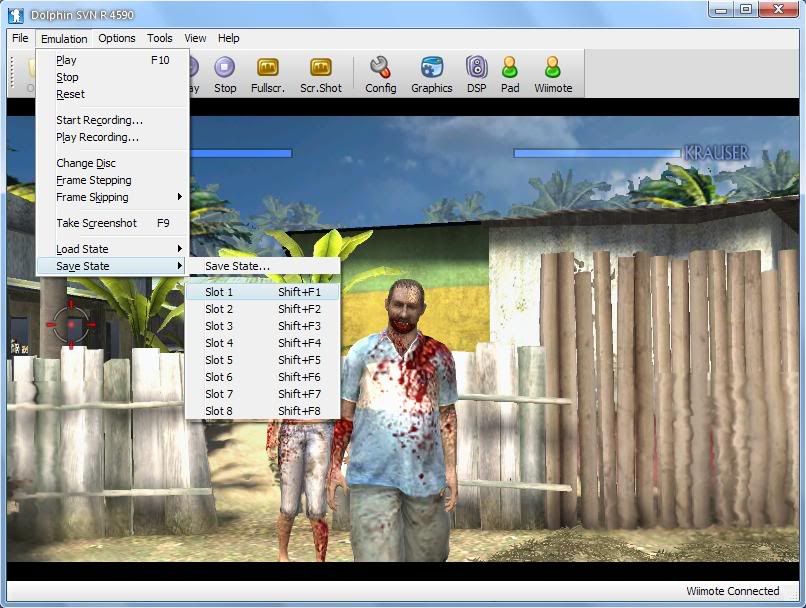 Now put back the HLE audio plugin, load the game from the start until you can see the cross and move it with the wiimote.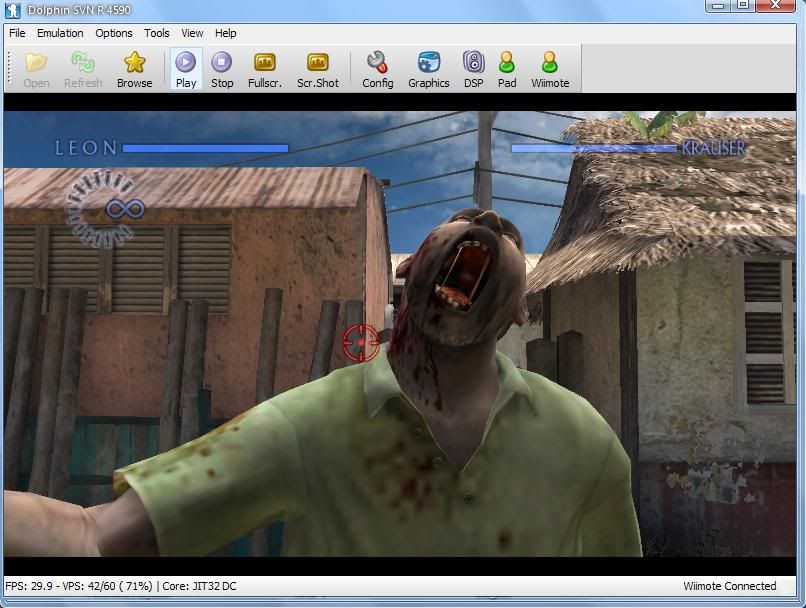 Then load the save state you did previously without moving the wiimote.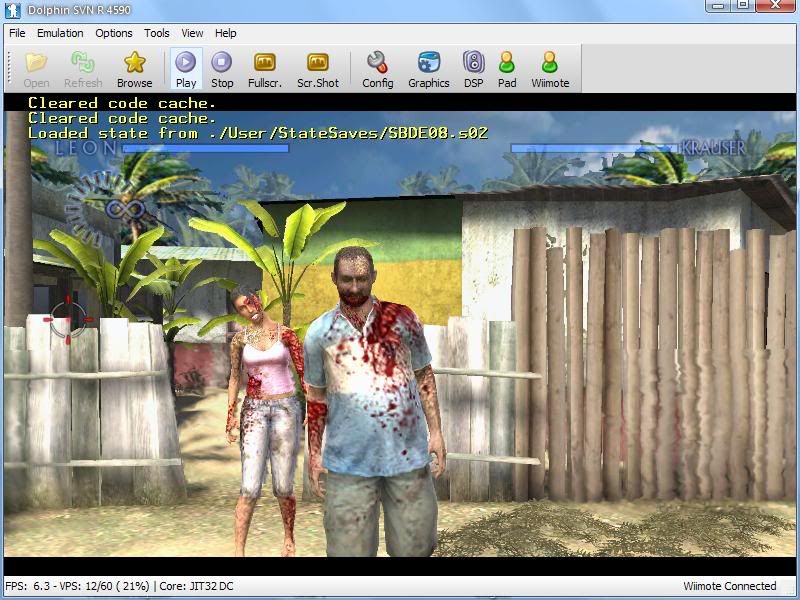 Have fun and Play!!!
Ah by the way if you have audio problems make sure to disable "Enable Other Audio (Throttle)" to hear sound and music.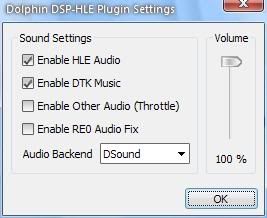 UPDATE!
Looks like machine gun can fire bullets.
Even with this option enemies apparently won't get any damage, you can shoot'em forever.Shaking wiimote and kick down them is the only way to get rid of them.
Managed to get forward with a savegame.
The game looks perfect, however guns are not working and you cannot recharge them. The only effective weapons are knife and kicks.