First off let me start by saying thank you. Thank you for all the hard work, time and effort that has gone into creating, maintaining and updating Dolphin. Seriously pat yourselves on the back because you deserve it. SERIOUSLY TY!
That being said I have a suggestion/request that I really think should be considered. I apologize for being so forward but I really think this could be awesome and I guarantee I'm not the only one who would love to see this...
Please port Dolphin to the Oculus Quest 2.
Please hear me out. I believe if done right this could be an absolute game changer for Wii emulation and the Dolphin emu. Here are my reason why I think it should be considered
1) The Oculus Quest 2 has superior motion tracking then that off the Wii and if utilized correctly could improve the emulation experiences of a lot of Wii titles. (Also no sensor bar required)
- - The quest literally tracks your hand movements as well as the controllers - see images below
- - The controllers literally show up in the menu and game when using the quest (you can see your "wiimotes") - see images below
2) The Oculus Quest 2 is android based and Dolphin already has a android port
- - Tried to install the app via Sidequest - software that allows you to install homebrew, demos and APK's via desktop computer, now has app that you can install directly to Oculus Quest 2
- - Software loads to the screen that would display the wii/gamecube titles found on the device and shows as if you were standing in front of a large curved TV screen which is adjustable to your liking (4:3, 16:9 ect ect)
- - Unfortunately when trying to click on the plus to add a game the software closes and when launching it again it states its continuing to crash and I am forced to close software
*** *** I did some digging and found a fork of Dolphin 5.0-10413 that works on the quest but doesn't have quest motion control support, must use Bluetooth controller -
https://github.com/weihuoya/dolphin/releases
*** ***
3) The Oculus Quest 2 hardware is all the same making it easier to optimize
- - The specs on the Oculus Quest 2 wont change
- - One setting for the Oculus Quest 2 versions across the board
You see your hand like this when using VR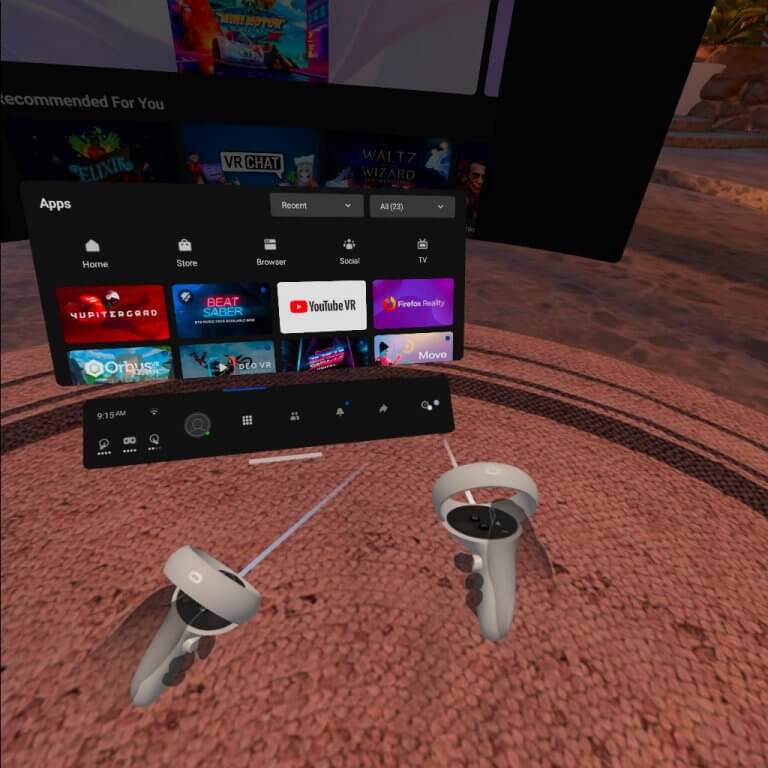 You see something like this when playing emus on the Quest such as retro arch and Dolphin - This is how the TV screen is shown in VR
And before someone says there's not enough buttons on the quest controller to match the Wiimote buttons its VR; you can literally put a Wii menu, plus, minus, or whatever menu button right next to the game screen and make it as big or as small as you want and all we'd have to do is move our head, look at it and point and click on it. The menu button could be pinned at the top or bottom and you could pin other buttons such as plus or minus on the left and right side if needed and depending on the game.
Imagine being able to play Wii sport, Punch Out and Metroid Prime Trilogy just to name a few all on the quest with superior motion tracking and without the need to config or messing with controllers/sensor bars as the controls are already mapped...
Again I apologize for being so forward and appreciate anyone who has read this post. I really hope at the very least I peaked your curiosity as to what Dolphin on the Quest 2 could be.